Letter from Stake President in the Spokane Area:
Brothers and sisters, we would invite you
to combine your faith with surrounding Stakes this Sunday in fasting and prayer for the safety and protection of lives and property by petitioning the Lord for favorable weather conditions to help control the many regional wildfires currently burning.
Please get the message out to the members of your units that would help as many as possible participate in this fast.

President Matt McCombie
+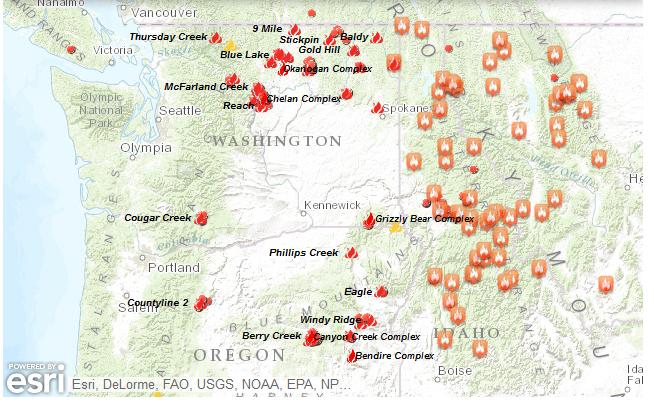 Letter from Mission President dated August 21, 2015:
Hazy Spokane Temple
Today we may be called the "Smoke-ane" Mission! We have received a report that there are currently over 30 fires burning out of control in our mission. Last week there were 4 missionaries temporarily evacuated due to fire concern, but they returned to their apartments the next day.
Heavy smoke and ash particles are in the air. We have been advised from SLC to keep the missionaries inside as much as possible during these weather conditions. They will continue to do teaching
appointments and make visits but will not be street contacting for the time being. Missionaries in high-risk areas have been asked to have a 72-hour bag in their apartment.
Church members are watching out for our missionaries. Zone leaders receive daily reports from each companionship. See attached pictures. Pres. Wayne R. Dymock, Washington, Spokane Mission President
*********
Air Quality Index not looking good
August 21, 2015 News article from KXLY.com
Hazy in Spokane from all the fires nearby
More than a couple people outside wearing dust masks to help them breath easier Friday.
Many of the dust masks you see are designed to filter out things like saw dust. Unfortunately many of them don't filter out the harmful gases in the smoke like carbon monoxide and formaldehyde.
It's an eerie sight looking over downtown Spokane. Heavy smoke from wildfires burning across eastern Washington lying thick and heavy on the city. A picture worth event that hasn't happened in a very long time.
The air quality dipping down into the hazardous range briefly on Friday night.
"Bad to breath. You know, you shouldn't be out here without some kind of protection," said Spokane resident Thomas Becker.
Many people using scarves, shirts and dust masks for some sort of relief from the smoke.
"It is helping quite a bit," said Becker.
The smoke so thick, it's even getting inside buildings.
Air quality continues to get worse
'I live up the road, the whole building smells like smoke," said Becker.
Anyone with respiratory problems is urged to stay inside. Health officials saying physical activity during the next couple days should be dialed down.
"Well, some guy just yelled at me that I shouldn't be out running in the smoke. So that worried me a little bit," said GU cross country runner Shelby Mills.
Riverfront Park normally busy on a Friday afternoon, now looking more like a ghost town.
"Not a lot of runner or not a lot of walkers either," said Mills.
Look at the difference between normal and now
The forecast for more smoke, having some people running for clearer skies.
"Back to campus and then I'll call it," said Mills.
If you do want to wear a dust mask make sure it has a N95 or N100 filter on it. Remember, these won't protect you completely some fine particulate will still get through.